Caitlin Alker mother calls for cyberbullying law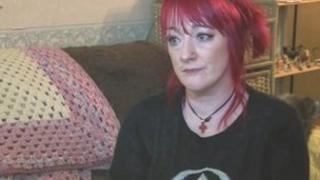 The mother of a Manx woman who took her own life after being abused on Facebook has said the law must be changed so "online bullies can be prosecuted".
Caitlin Alker received 300 "cruel and hurtful" comments in the days before she died in August 2012.
At her inquest, coroner John Needham said the "anti-social networking" had "ultimately led" to her death.
The 19-year-old's mother Michelle wants more protection and support for victims of online bullying on the Isle of Man.
An Isle of Man Constabulary spokesman said the force was working on a new strategy to tackle the problem.
Mrs Alker said Caitlin "was originally a very strong person, but the bullying eventually overwhelmed her".
"I think it played a large part in her death," she said.
"I want to see more protection through the law so that online bullies can be prosecuted - it might deter them."
She added that "people need to know how their actions can affect others - bullies need to be educated".
'New digital strategy'
The body of the 19-year-old mother was found in her flat by friends on 26 August last year. The coroner recorded the cause of her death as suicide by hanging.
Her inquest at Douglas Court House was told the abuse, which accused her of sexual promiscuity and being a bad mother, was among a series of factors in her death.
Mrs Alker said the bullying "started in the neighbourhood when Caitlin was about 16 and then it moved online".
"She did her best to deal with it but it did affect her and she just deteriorated over time," she said.
She added that "it would be good if there was some sort of charity on the island where people who are being bullied could get some respite and support".
"There is nothing I am aware of, unless you contact the Samaritans but that's a phone number - it would be better if there was somewhere you could actually go."
The police spokesman said the force was "in the process of designing a new digital strategy on the back of our wider social media work".
"It is hoped that this will provide more clarity for individuals subjected to abuse and harassment online as to how to access help and what can be done to support victims."
Caimin Collins from BeatBullying said online abuse was an escalating problem.
"There is no escape from cyberbullying [as] it doesn't end at the school gates," he said.
"One in three young people have experienced it and around one in 13 experience it on a persistent and recurring basis."
He added that the organisation was backing calls for tougher laws against cyberbullying and believed current legislation had "fallen behind the advances in technology".