Manx National Heritage open days attract thousands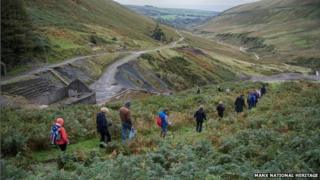 Thousands of people have attended a series of workshops and tours of "Manx heritage treasures" held at sites across the Isle of Man.
Manx National Heritage (MNH) held guided tours of dozens of sites including the Isle of Man's parliament building Tynwald.
A MNH spokeswoman said the events were "exceptionally well attended."
More than 2,000 people visited the open days held at sites including the steam and electric railway workshops.
Event co-ordinator Katie King said: "We are stunned at the number of visitors.
"Many of the tours and talks proved far more popular that we thought possible, especially the tour of Tynwald and the guided tours of the railway workshops. It was a great opportunity for any railway enthusiast."
Fellow co-ordinator Suzanne Williams said: "Many of the nature tours were also oversubscribed."
She said there were some "popular new additions" including tours of Braddan Old Churchyard and guided tours of King William's College and Golden Meadow Mill.
Guided historical tours exploring female internment on the Isle of Man during the Second World War also proved popular.
Mrs King said: "We can't wait to get started on the 2014 festival programme, and would love to hear from people who have good ideas of places we can access."
Manx National Heritage hope to make their open day weekends a "permanent addition" to the Manx calendar.