SA church leader, Cardinal Napier, to visit Isle of Man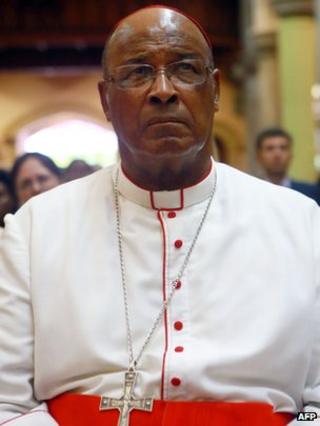 The head of the Roman Catholic Church in South Africa is to visit the Isle of Man next month.
The Archbishop of Durban, Cardinal Napier, will celebrate mass at St Mary's church, Douglas, on 27 November.
He was one of 115 cardinals who took part in the conclave at the Vatican to elect Pope Francis in March.
Cardinal Napier, who was ordained as a priest in 1970, is also scheduled to meet with government officials from the International Development Committee.
Paul Davies, island businessman and personal friend, said: "The cardinal has become an important patron of the island's business community, as all of the Church's European fundraising is administered from here.
"He is also one of the most soulful, humble and inspirational people I have ever met."
Cardinal Napier, born in 1941 in Swartberg, South Africa, first became a bishop in 1980. In 1992, he succeeded Denis Hurley as Archbishop of Durban.
The Cardinals of the Catholic Church are the most senior clergymen below the Pope.