Motorcyclist Mark Madsen-Mygdal died 'following his passion'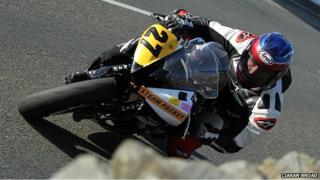 A Manx motorcyclist died instantly after hitting a wall at high speed while vying for the lead of a Southern 100 race, an inquest has heard.
Mark Madsen-Mygdal was competing with two other riders for the lead on the final lap of the 600cc race on 11 July when the accident happened.
Coroner John Needham recorded a verdict of death by misadventure at Douglas courthouse on Wednesday.
The 23-year-old bank worker was the son of a hugely experienced TT rider.
The court heard how on the second to last corner of the race Mr Madsen-Mygdal was neck-and-neck with Ross Johnson and Andrew Saw.
Mr Johnson, a former Manx Grand Prix winner, lost control of his machine and ran wide at Stadium corner.
He hit the kerb launching him and his Yamaha R6 into the safety barrier before rebounding at high-speed into the path of Mr Madsen-Mygdal.
The court head how Mr Johnson, a regular competitor on the Isle of Man, had no memory of the race and suffered multiple injuries in the crash.
The third rider Andrew Saw was not involved and went on to win the race.
Mr Needham said Mr Madsen-Mygdal could "not avoid" the accident and hit the wall on the inside of the corner at high-speed.
One spectator said "the air was filled with debris."
Photographer Jonathan Jessop said: "The bike hit the wall and bounced back across the road. It was total carnage."
Mr Saw said: "I was riding fast and hard to win and I didn't know what had happened until I saw the flags."
Mark's father Dave Madsen-Mygdal, who finished his 100th and 101st Isle of Man TT races in June, said: "I have not just lost my youngest son but my best friend."
His mum Jill added: "Our lives were shattered that day. We were so proud of him and what he achieved.
"A piece of my soul died that day but I was blessed to have him in my life for 23 years."