Christmas stamps mark Isle of Man Post Office anniversary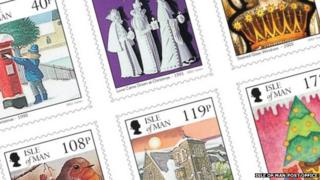 Stamps featuring the Isle of Man's favourite Christmas designs from the past four decades have gone on sale to mark the 40th anniversary of the island's Post Office.
The collection, released by Isle of Man Stamps & Coins, features six designs taken from previous Christmas stamps.
General Manager Maxine Cannon said it was a "fitting tribute" on the anniversary.
The stamps include the Three Wise Men, stained glass windows and winter birds.
Mrs Cannon said that with 162 previous stamps to choose from, "it was quite a challenge" to choose six.
"However, we feel they capture a little bit of everything when it comes to Christmas and what it means to so many," she said.