Isle of Man pledges £150k to six emergency appeals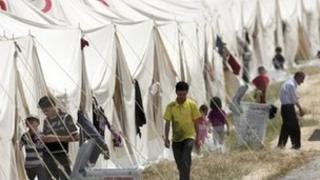 The Isle of Man government has pledged £150,000 to five UK humanitarian charities in response to emergency appeals in six separate countries.
The island's International Development Committee (IDC) will donate £25,000 to projects in Namibia, Sudan, Lebanon, Pakistan, Jordan and Uganda.
Member of the IDC Phil Braidwood MLC said: "The emergency aid will help people who are in great need".
Two charities helping Syrian refugees with aid will receive £25,000 each.
ActionAid UK's campaign to help with the the Syrian refugee crisis in Lebanon and Oxfam's campaign to help the Syrian refugee crisis in Jordan will both receive help.
Mr Braidwood added: "The situation in Syria continues to reverberate across the region which is why the committee agreed to fund two projects targeting the refugee crisis.
"But we must not forget other, less well publicised but no less devastating events happening across the globe."
The aid package will also help with projects including drought relief in Namibia, flooding in Pakistan and humanitarian relief in Sudan.