Svetlana Cameron: Artist 'very excited' by national honour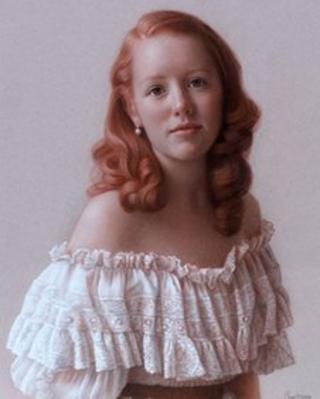 Svetlana Cameron has become the Isle of Man's first artist to be elected a member of the British Society of Graphic Fine Art.
The Russian-born artist was invited to apply for membership after her drawing Morning Light impressed judges in a national competition.
She was invited to London to present a portfolio of 12 works and subsequently elected one of just over 100 members.
The artist said the recognition made her "very very happy".
Morning Light was chosen from hundreds of national and international submissions for the society's show at London's Menier Gallery.
'Drawing excellence'
It is the only national society in the British Isles dedicated exclusively to drawing.
Ms Cameron said: "To be considered as one of the 100 best draughtsmen and women of the country is very exciting."
A spokesman for the society said the only criterion was "drawing excellence".
The artist has also been included in the prestigious US publication Strokes of Genius - the Best of Drawing.
Her painting Girl with the Pearl Earring beat more than 1,500 works to be included.
The book will be published next year.
Ms Cameron said: "It has been an overwhelming year and I am delighted by the success."
She moved to the island nine years ago and produces her work in a studio in Braddan.