Ferry passengers donate thousands to MGP helicopter fund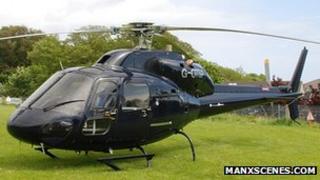 Ferry passengers travelling to the Isle of Man for the Festival of Motorcycling have raised more than £6,000 for the Manx Grand Prix Helicopter Fund.
Two rescue helicopter ambulances are used during the Manx Grand Prix practice and race days, both of which are funded by public donations.
Chairman of the MGP Supporters' Club Bob Taylor said he was "extremely grateful" to everyone who donated.
The annual collection is organised by Ben-my-Chree and Manannan crew members.
In total the two helicopters cost about £100,000 a year to hire for the event, which is held around the Isle of Man TT course and sees riders reach speeds of up to 200mph on closed roads.
Mr Taylor said: "We are extremely grateful to the crews of both vessels for organising the collection - and, of course, to the travelling public for their incredible generosity."
The helicopters, which have a top speed of 150 mph, take an average time of about five to six minutes from the first radio alert to arrive at the scene of an incident.