Thousands of diseased trees to be felled in Isle of Man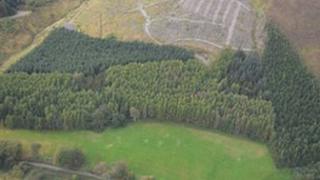 Thousands of larch trees will be felled in the Isle of Man after an "explosion" of a deadly tree disease, the forestry division has said.
According to the Manx government around 50% of the island's larch population is now infected by Phytophthora ramorum.
Senior forester John Walmsley said the disease, first detected on the island in 2010, had "exploded" since March.
About 40,000 cubic metres (1.4m cubic feet) need felling, equating to tens of thousands of trees.
'Major impact'
Mr Walmsley said the move was needed to prevent it spreading from the foliage to other tree and plant species.
He said: "Larch makes up around 20% of our plantations and in the short term it will have a major impact.
"It will, however, in the long term provide an opportunity to replant, restructure and diversify."
The increase in the disease has been attributed to weather conditions last year which were ideally suited to the spread of the disease.
Phytophthora ramorum, also known as sudden oak death, was first found on the island in Ballaugh, during a routine aerial inspection.
The fungus-like pathogen causes the ramorum disease which is particularly serious in Japanese larch trees and rhododendrons.
In July, a survey by the Manx Forestry Directorate showed a "considerable spread" of the disease in the north of the island.
Since then it has spread to the south, east and west.
More than 12,000 cubic metres (424,000 cubic feet) of trees have already been felled in the Colden and Ballaugh areas.
Environment minister Phil Gawne MHK said "quick action" was needed.
"It is a big issue and it will cost more than we have in our budget but we are giving it our full attention."