Alexis French death: Judo coach tribute for 10-year-old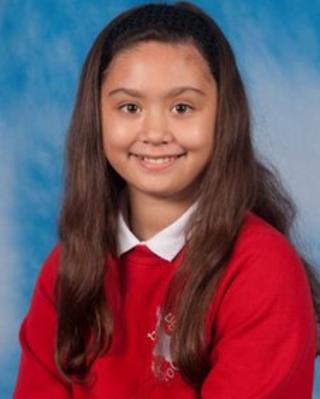 A 10-year-old girl killed in a car crash in the Isle of Man had a "beautiful soul", her judo coach says.
Alexis French died when the car she was in collided with a bus on the Castletown Bypass on Saturday.
Police said her brother is "making progress" and remains stable in intensive care at a hospital in the UK.
Her mother was described as "stable" in Noble's Hospital while her father was "critical" after being transferred to Walton Hospital in Merseyside.
Judo coach David Crowe, writing on Facebook, said Alexis was "happy and full of life".
'Sorely missed'
Mr Crowe wrote: "I post this with tears in my eyes and a sad heart... I coached her on Wednesday of this week and she was happy and full of life.
"She was a brave fighter and a beautiful soul, [with] a smile that could stop you in your tracks."
He added: "My prayers are with her brother Adam (another fine judoka and person) and her parents as they fight their own battles. Life is random and cruel - hug your loved ones closely tonight and tell them that you love them. RIP Alexis."
Isle of Man (Southern) Judo club said in a statement the judo community was "devastated" by the news of the death of the year six student at Ballaugh Primary School.
The club said: "She wasn't a member of our judo club but one of our family. Her happy, smiley face will be sorely missed by every one of us."
Five people were released after treatment, but one remains in Nobles Hospital with fracture injuries, police said.
Head teacher Dr Graeme Cushine, said Alexis was a popular, bright and hard working pupil who had many friends.
"She loved learning, both inside and outside the classroom and was a school librarian," he said.
Police said five of six people taken to hospital from the bus have been discharged.
One person is still being treated for fracture injuries, said police.