Isle of Man prison appeal for inmate work scheme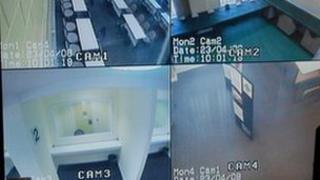 Charities and businesses have been asked to come forward with "meaningful" work projects to help rehabilitate inmates at the Isle of Man prison.
The government hopes the partnership scheme will benefit local organisations while occupying and helping to retraining offenders.
The home affairs department is focusing on providing jobs that can be undertaken within the prison walls.
A spokesman said all prisoners would be risk assessed and supervised.
Deputy Prison Governor, Nigel Fisher said: "We wouldn't rule out work outside the prison, but it is a lot more difficult to arrange.
"A small group of prisoners were able to take part in painting and renovating Jurby Church because it was close by and we had assistance from the charity Faith in Action."
In the UK prisoners work in a variety of jobs such as packing plastic cutlery and headphones for airline passengers, running printing presses and making window frames.
Examples of projects involving Manx prisoners include making recycled shopping bags, assembling wooden fence panels, in addition to the Jurby Church refurbishment.
More information about the project in available from the Isle of Man prison.