Commonwealth Games: Kelly Holmes teaches Manx hopefuls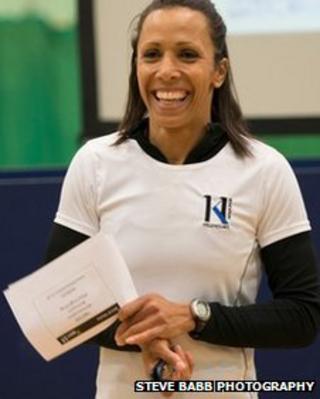 More than 90 Isle of Man athletes have taken part in the latest part of a training programme run by Dame Kelly Holmes.
The session was designed to help the athletes prepare for a major championships, specifically the 2014 Commonwealth Games in Glasgow.
Manx shooter Lara Ward said the advice she received was "priceless."
The Isle of Man's most decorated Paralympian Ian Sharpe also spent time with the group.
Mr Sharpe, who is visually impaired, has won 10 Paralympic medals at five separate Paralympic Games, as both a swimmer and cyclist.
'Maximise performance'
The multiple world champion said: "If this had been around when I started my career, it would have really helped.
"It took 30 years to learn what these guys can learn at these sessions, benefitting from the experiences of people who have been there and done it."
"They are being given the tools, skills and information they need to maximise their performance and realise their potential.
The topics explored included the unique atmosphere and environment at top international events, diet and meal planning and packing hand luggage to cope with unforeseen circumstances."
Lara Ward, who won gold at the recent Commonwealth Shooting Federation Championships, said: "The advice and inspiration that I have gained from the programme already is priceless."
Many of those involved hope to qualify and represent the Isle of Man at the 2014 Commonwealth Games in Glasgow.
A spokeswoman said: "The first tangible benefits of the programme were witnessed at the 2013 Island Games in Bermuda in July when the Isle of Man team, featuring many members who attended the Isle of Man Sporting Excellence Programme, topped the table."
The Manx team lifted a total of 97 medals, including 36 golds, at the Games.
The last time they finished at the top of the medal table was 1998.