Kelly Holmes sports project enters second year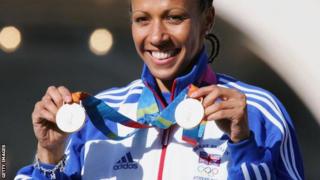 A sporting excellence programme launched by Olympian Dame Kelly Holmes on the Isle of Man will begin its second year on Sunday.
More than 90 athletes and coaches have been selected to take part in the professional-led training sessions.
Holmes, the winner of two Olympic gold medals, said the aim was to inspire the next generation of Manx champions.
Many of those involved hope to qualify and represent the Isle of Man at the 2014 Commonwealth Games in Glasgow.
The chosen athletes will attend a day of workshops and presentations on anti-doping, media training and nutrition at the National Sports Centre on Sunday as the programme enters it second year.
Holmes herself will lead a session on preparing for major championships.
A spokeswoman said: "The first tangible benefits of the programme were witnessed at the 2013 Island Games in Bermuda in July when the Isle of Man team, featuring many members who attended the Isle of Man Sporting Excellence Programme, topped the table."
The Manx team lifted a total of 97 medals, including 36 golds, at the Games.
The last time they finished at the top of the medal table was 1998.