Early births lead to 'bumper seal pup season' prediction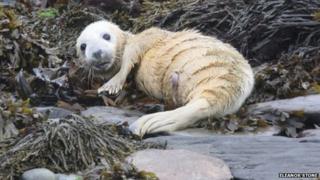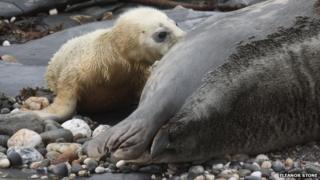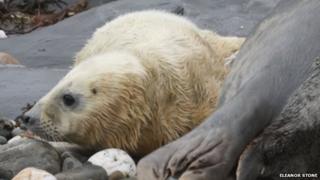 Wildlife experts on the Isle of Man have predicted a "bumper year" for seal pups after the first were born a week early on the Calf of Man.
Six were recorded by the Manx Wildlife Trust this week as part of their annual seal survey of numbers and behaviour.
Marine officer Eleanor Stone said all the pups were doing well and that two of the mothers were seals who have given birth there for several years.
Mothers have been known to abandon their pups if disturbed by the public.
There was also a warning after an adult female was photographed with fishing line around her throat.
The trust said it was unable to remove it because wild seals were "difficult to approach on land, and too fast to approach in water".
Ms Stone said: "It is a nasty looking injury, caused by fishing line which has got wrapped around her neck and is embedding into the skin.
"We hope by raising awareness of the dangers of litter, people will take more care when disposing of rubbish and we can prevent any more injuries like this".
The Manx Wildlife Trust's monitoring programme, which is now under way, will help them gain more insight into the grey seal population around the Manx coastline.
During previous surveys, photographs taken of the mothers have proved that the same seals come back year after year to give birth and breed on the rocks at the Calf of Man.
Pups are born snowy white but in just a few short weeks they will shed this coat, be fattened up on their mother's milk, weaned and then left to fend for themselves.
Ms Stone added: "Some pups will also be born on the island, so you may come across them on a beach. Although they look cute and harmless, pups have sharp teeth and can be aggressive, so we would urge people not to approach them.
"Their mothers are very protective so could also be aggressive if they feel their pup is being threatened."