Manx Telecom starts work on £10m Isle of Man data centre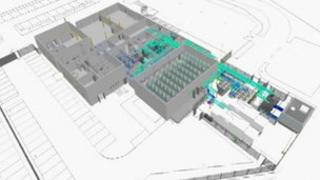 Work has begun on a £10 million data centre in Douglas on the Isle of Man.
The purpose-built facility, at the Isle of Man Business Park, will be Manx Telecom's largest on the island.
CEO Mike Dee said it is a "significant investment which will create opportunities to attract new business to the island."
The first phase of the project will cost £3.5m and is due to be completed by January
Mr Dee said the facility will increase the island's hosting capacity and could attract firms working in a range of sectors, including egaming, ebusiness and finance.
The island's chief minister Allan Bell, said the move is an "important vote of confidence in the Manx economy."
He said: "It will help our drive to diversify our economy."
Mr Bell cited the success of the egaming industry which did not exist on the island 10 years ago but now contributes around 8% of the island's GDP, employing around 800 people.
"A new facility like this is hugely important," Mr Bell continued.
"The egaming industry will contribute around £20m direct in tax to the Isle of Man government this year - so to have this centre can only help the island's reputation."
The data centre, Manx Telecom's third, will provide a service to customers who need to outsource their computer storage.