Dolphin newborns indicate 'Manx breeding ground'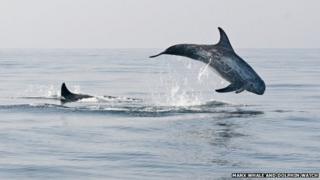 New-born dolphin sightings have highlighted the importance of Isle of Man waters as a breeding ground for the mammals, marine researchers say.
Five Risso's calves were spotted by the Manx Whale and Dolphin Watch north of the Calf of Man at the end of July.
A spokeswoman said foetal fold-lines were clearly visible on the dolphins, suggesting an age of about two-weeks.
"It means Manx waters must be important to the breeding population of Risso's dolphins in the Irish Sea," she said.
Researchers said there were 89 animals on the Manx Whale and Dolphin Watch register, with the amount of Risso's sightings on the increase (53 in 2013 compared to 30 in 2012).
"Our ongoing studies suggest that the Isle of Man might host one of the most cetacean-diverse areas of the British Isles with the Risso's dolphin, Bottlenose dolphin, Short beaked common dolphin, Minke whale and Harbour porpoise all commonly seen here," the spokeswoman said.
"With this in mind, we aim to raise awareness of this incredible place and work together with locals and tourists alike to look after our seas and conserve these wonderful mammals."