Isle of Man tourism 'glory days' exhibition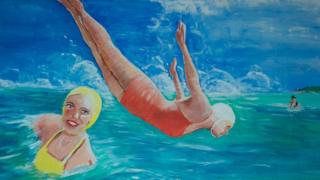 A look back at the "glory days" of the Manx tourist industry is the focus of a new exhibition at Ramsey town hall.
The display features ten images by local artist, Michael Starkey, as part of celebrations to mark the 120th year of the Manx Electric Railway.
The paintings depict scenes from posters advertising what the island had to offer as a holiday destination.
At its peak, near the turn of the 19th Century, the Isle of Man was a popular getaway for rich British families.
A spokesman from Ramsey town commissioners said posters advertising the Isle of Man, were once a common sight all over the United Kingdom.
He added that they were displayed "at railway stations and ferry terminals in Liverpool, Fleetwood and Holyhead."
With its world famous horse trams and sweeping bay, Douglas was once home to a string of thriving guesthouses and hotels and by the 1960s the island had become a destination for working class families from the north of England.
Tourism was an integral part of the island's economy for well over a century but now it makes up less that 10% of the Manx economy- with many now opting for cheap package holidays abroad.
The free exhibition will be displayed in Ramsey town hall "for the next few weeks".