Isle of Man police puppies move to Cumbria to start work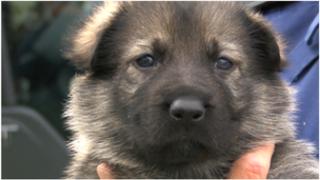 Three German Shepherd puppies bred by the Isle of Man Constabulary have left to begin work with the Cumbrian police force.
The nine-week old puppies were donated to Cumbria as part of a continuing alliance between the two forces.
Two UK officers travelled to the island this week to observe the Manx litter.
PC Paddy Bainbridge, from the Cumbrian force, said: "Everything I have seen so far tells me that these dogs have a very promising future with us."
He added: "It's very important that we come over to the island and see the animals in their home environment- then we can see what stage they are at in their training programme."
The remaining six puppies will remain on the Isle of Man and will become general purpose police dogs trained to track people, explosives and drugs.