Dolphin pod spotted off Isle of Man coast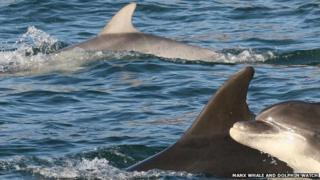 A pod of more than 30 bottlenose dolphins has been spotted off the coast of the Isle of Man, according to the Manx Whale and Dolphin Watch (MWDW).
The dolphins were seen at about 07:00 BST on Monday, near Laxey Bay on the east coast of the island.
A MWDW spokesman said five groups of minke whales have also been reported in the area during the past week.
He said: "There is a good chance of seeing more from the east coast when the calmer weather sets in on Tuesday."
In May, a sighting of more than 60 bottlenose dolphins near the north of the Isle of Man, led to a photo appeal by a UK marine conservation charity.
The Sea Watch Foundation asked for people to submit images to help identify individuals.
Common bottlenose dolphins are widespread, except in polar waters. They are extremely sociable and sometimes hunt their prey in teams.
The dolphins normally visit Manx waters between October and March to feed on herring, mackerel and whiting.