Yellow fever vaccine shortage leads to travel warning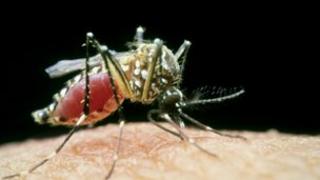 A vaccination which protects people from yellow fever is in short supply in the Isle of Man, health officials have announced.
The shortage has led to a warning to island residents looking to travel to Africa or South America to consider other travel destinations.
The viral disease is transmitted by several species of mosquito and causes around 30,000 deaths a year.
Since July there has been a worldwide interruption to vaccine supplies.
A Department of Health spokesman said it was likely the shortage would continue until January 2014.
Yellow fever, caused by a virus transmitted by mosquitoes, kills up to 50% of its victims. Symptoms include high fever, jaundice, low blood pressure and kidney failure.
It is endemic in tropical regions of Africa and South America where the World Health Organization estimates approximately 200,000 cases occur each year, with 30,000 deaths.
There are four registered Yellow Fever Vaccination Centres on the Isle of Man.