Average TT fan spends about £700 says new report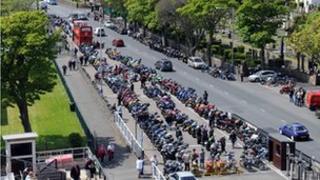 The average spend for a trip to the Isle of Man during the TT festival 2013 was about £700 for a six-day stay, according to a new report.
The Treasury survey shows that almost 40,000 visitors made the journey this year, a rise of 27% since 2010.
A spokesman said the 2013 event brought an income of £19m to the island's economy, and £3.5m to the exchequer.
The busiest day of the festival was Mad Sunday (2 June) when there were more than 25,000 tourists on the island.
The Treasury report was based on more than 6,000 interviews conducted with passengers departing the Isle of Man by ferry and plane during the festival period.
A spokesman said the last time the figures were recorded for the survey was in 2010.
The government said the total cost of hosting the TT races was not known but, according to the department of economic development, "the net cost of the TT Races to the department, once commercial revenues and income have been offset against costs, is £2.6m".