Isle of Man grant helps complete Nepalese school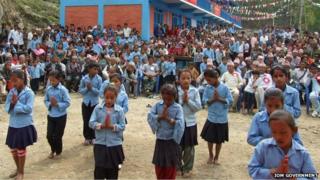 An Manx government grant of £26,400 has been used to help build a new school in the Taplejung region of Nepal.
The remote building, which is situated in the village of Hangpang, currently accommodates about 250 pupils and cost in the region of £40,000 to build.
The project was linked to a charity called the Pahar Trust which helps build and equip Nepalese schools.
The Manx international development committee has contributed to more than 25 schools in the country.
Chief Minister Allan Bell said it was a pleasure to hear how the island has helped change the lives of hundreds of children.
"The Isle of Man has a reputation as a responsible and caring nation and we take our commitment to supporting international development projects very seriously indeed," Mr Bell added,
The Isle of Man's international development committee has an annual budget of £2.4m and is used for grants to disaster and emergency appeals in developing countries.