Motorcycling festival boost for Isle of Man ferry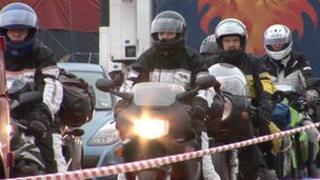 Isle of Man ferry operators have recorded a 4% increase in visitor numbers during the Manx Motorcycling festival, according to new figures.
The Steam Packet company said almost 30,000 passengers travelled to the Isle of Man over the festival period, the highest number since 2008.
That figure includes 3,324 bikes and about 5,500 vehicles.
Steam Packet chief Mark Woodward said statistics have prompted plans for timetable changes in 2014.
He added: "The growth in visitor numbers benefits our whole community, creating additional demand for accommodation, shops, restaurants, bars and so on, helping to increase turnover across the Manx economy.
"With this is mind, and looking ahead to increased interest in the Festival of Motorcycling, we are already formulating plans for extra sailings in 2014 to accommodate what we hope will be yet another record-breaking year."
The fortnight-long motorcycling festival, formerly called the Manx Grand Prix, takes place in the Isle of Man at the end of August.