Isle of Man festival of motorcycling debut for TT star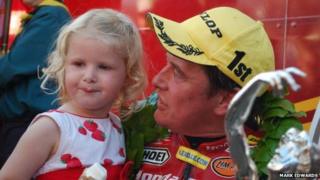 Multiple TT champion John McGuinness will make his debut at the Manx Motorcycling Festival on Saturday.
The 41-year-old Morecambe rider said he was looking forward to riding without the sponsorship pressures of the TT.
The former bricklayer is the TT's second most successful rider, beaten only by the late Joey Dunlop.
Last June, he won the blue riband Senior TT and claimed his 20th success at the famous Isle of Man road races.
He said: "I get nervous in the TT, but this time round I'm here to enjoy myself - I'll be grinning from ear to ear all the way round the track."
The father of one will also achieve another milestone in his racing career.
He said: "I have never competed in the Manx Grand Prix but I couldn't resist the idea of the Classic TT- the organisers said, do you fancy it and I said yes - I really don't need an excuse to come to the Isle of Man.
"I've been racing in Japan and Germany this year but wherever you go people talk about the TT because it is, without doubt, the best racing circuit in the world- it's the hardest, the longest and the most unique, nothing comes close."
The recently rebranded Isle of Man Festival of Motorcycling includes the Manx Grand Prix, the Classic TT, the Manx Classic trail, the Vintage Motorcycle Club and the Manx 2-day trial.
Racing is scheduled to begin with the first Classic TT race on Saturday.
"I think everyone will get into the spirit of the event and I'm expecting to see spectators in daft clothes and wigs," added McGuinness.
"It's all about history and nostalgia."