Army recruits boost Manx Grand Prix marshal numbers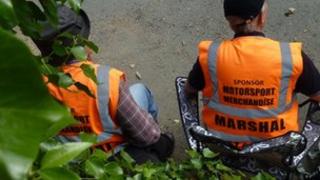 Fifty soldiers from the UK army have stepped in to volunteer as marshals for the Manx Festival of Motorcycling.
It follows a recent appeal for volunteers, ahead of a week of racing on the world-famous TT circuit.
More than 500 marshals are required for each session on the 37.8-mile mountain course before the clerk of the course will give it the go ahead.
Travelling marshal Jim Hunter said the soldiers would be briefed and trained before they take up their positions.
He added: "Although these men and women are highly trained soldiers they are effectively newcomers to the TT so they won't go to a location on their own- they will be accompanied by other experienced marshals."
Motorsport marshals are responsible for the safety of competitors and are stationed around the TT circuit in case of accidents, collisions or circuit problems.
The army recruits will be marshalling during races on 28 and 30 August.
'Full quota'
"The races simply cannot go ahead without a full quota of marshals and for each race we need 521 people situated around the course. It's black and white- if they are not in position we cannot not run the race.
"When we approached the army about this, they put out a notice on the internet and the following day all 50 places were taken, there was even a reserve list so we are delighted they have been able to support us."
Racing for the Isle of Man Festival of Motorcycling gets under way on 24 August with the first of two Classic TT events.
Racing begins at 12:45 BST with the roads scheduled to close at 12:00, and reopen at 18:00.