Isle of Man lifeboat in fishing boat rescue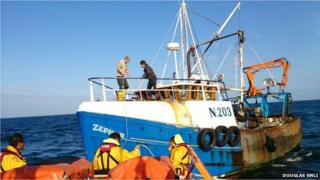 A fishing boat has been rescued by Douglas lifeboat after losing power 12 miles off the coast of the Isle of Man.
The all-weather RNLI craft Sir William Hillary was launched on Monday evening and returned with the trawler in tow three hours later.
None of the four fishing crew members onboard the 16-metre FV Zephyr were injured.
A spokesman from Douglas lifeboat said the incident was the fourth call-out rescue in a week.