Three Manx police puppies donated to UK force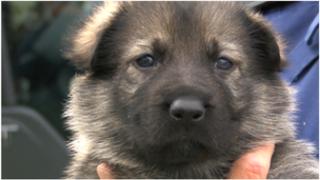 Three puppies bred by the Isle of Man constabulary have been donated to Cumbria as part of a continuing alliance between the two forces.
It is the second time the UK force has accepted German shepherds from the island's dog breeding programme.
Last year three puppies from the same parents joined the 12 police dogs and 12 drugs and explosive dogs in Cumbria.
The litter of nine, born four-weeks ago in Douglas, has already started training on a mini assault course.
Sgt Ian Kelly from the Isle of Man Dog Unit said:"We make training fun for the puppies to give them the chance to become accustomed to different noises, surfaces, people, places and experiences.
"We have a very good working relationship with the Cumbrian police - they help us out when we have big events on the island and in exchange we provide them with these quality police dogs."
The remaining six puppies will remain on the Isle of Man and will become general purpose police dogs trained to track people, explosives and drugs.