Sartfield beach rubbish becomes 'overwhelming'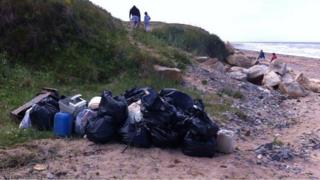 The amount of rubbish found on a beach in the north of the Isle of Man has been described as "overwhelming" by a local beach cleaning organisation.
Beach Buddies volunteers collected hundreds of plastic bottles from Sartfield beach this week but said they had only scratched the surface.
Organiser Bill Dale said the amount of rubbish was "simply overwhelming."
In the past year the group, which has more than 1,000 volunteers, has cleared tonnes of rubbish from Manx beaches.
It has now made the beach in Jurby its top priority.
Mr Dale said: "The huge amount of rubbish discovered by volunteers must have collected over many, many years.
"Hundreds of plastic bottles were collected but there are still mountains remaining, along with fishing gear, canisters and ropes.
"It is frightening to think of the damage that this sort of pollution has caused the wildlife along the coast over the last 10 or 20 years."
The group will again target the beach on Sunday starting at 10:30 BST.