Isle of Man Viking sword to star in major York exhibition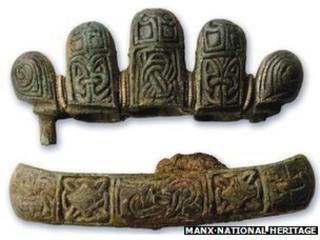 Fragments of a 1,100 year-old Viking sword, discovered by metal detector enthusiasts on the Isle of Man, have gone on display in North Yorkshire.
The highly decorated sword pommel, which experts have dated to around AD900, was found near Ballaugh in 2008 by Rob Farrer and Daniel Crowe.
It will be displayed as part of the Heroes exhibition at the Jorvik Viking Centre in York until November.
The show explores the stories of some of the most influential Vikings.
Head of archaeology at Manx National Heritage, Allison Fox, said it could be the "very sword which belonged to the first Viking ever to settle in the Isle of Man".
'Superb find'
She added: "It is around 1,100 years old. We haven't got the whole sword but what we do have is the most decorated part which tells us when and where it hails from, probably Norway.
"We have never had anything with this level of decoration before."
The sword fragments are made from copper alloy so were never declared Treasure Trove, which is reserved for gold and silver items.
Mr Farrer and Mr Crowe donated their find to Manx National Heritage in 2008.
At the time of the discovery, Mr Farrer told the BBC it was a "superb find" and definitely his "best to date".
A Manx National Heritage spokeswoman said two other replica swords found on the Isle of Man have also been loaned to the York Archaeological Trust for their exhibition.
The show will explore the life of Godred Crovan, also known as King Orry, who made three attempts to capture the Isle of Man and bring it under his rule.
When he finally did he went on to reign for 16 years. The display will also feature other Viking notables including Eric Bloodaxe, Harald Bluetooth and Leif the Lucky.
The Vikings flourished on the Isle of Man and much of their influence is still evident today.