Isle of Man 'road respect' campaign launched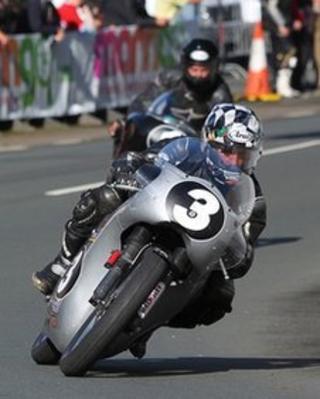 A road safety campaign calling for bikers to respect the roads on the Isle of Man has been launched, ahead of a two-week motorcycle racing event.
It is estimated the Manx Festival of Motorcycling, between 17 August and 1 September, will attract more than 10,000 visitors to the island.
The event includes the Classic TT Races, the Manx Grand Prix (MGP) and the Vintage Motor Cycle Club Rally.
MGP competitor Paul Smyth urged visitors not to emulate the riders.
He said: "When we are racing, the roads are closed and we have the support of marshals, if you are riding on open roads you have to remember anything can happen at any time.
"This is the Isle of Man and you are likely to come across farm vehicles or livestock, so you need to keep within the speed limits."
Supt Kevin Wilson said the key safety message from this year's safety campaign was about "respecting" roads.
"We think the message is getting through, but if people do act irresponsibly then it will be dealt with quite severely by the Isle of Man courts," he said.
"The worst case scenario of course is when the tragedies happen - those are truly awful events and, believe me, you don't want to put your friends and family through anything like that."
The recently revamped motorsport schedule will also feature the Festival of Jurby and the Classic and Two Day off-road trials.
Organisers said the event was intended as a celebration of motorcycling and would also include exhibitions, chat shows, autograph sessions with legendary riders, parade laps, and air displays.