Isles of Man's Mountain Road reopens after urgent repairs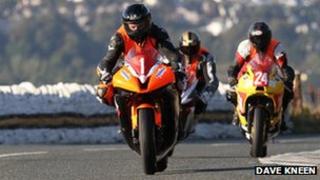 The Isle of Man's Mountain Road has been reopened after emergency resurfacing work ahead of the Manx Grand Prix, which begins on Saturday.
The work follows serious concerns about the road in an inspection by organisers and infrastructure officials.
In April, an inspection by TT organisers also identified 300 faults, mainly on the Mountain Road, which were fixed in June at a cost of £200,000.
The Manx Grand Prix will celebrate its 90th anniversary this year.
The Department of Infrastructure (DOI) said the condition of the road had "deteriorated more rapidly than expected due to the recent hot weather".
"A section of the road had rippled along the racing line which could adversely affect riders and their machines."
The repairs were carried out on a section of the A18 road next to the Graham memorial, which is dedicated to Les Graham who was killed on the second lap in 1953.
The DOI added the Mountain Road would also be closed from Ramsey to the Bungalow on Tuesday between 09:30 and 14:30 for filming.