Sunken fishing boat raised to the surface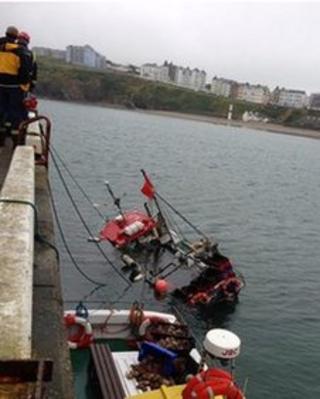 A fishing boat from Northern Ireland which sank while moored at Port Erin harbour on the Isle of Man has been brought back to the surface.
The boat sank overnight on Monday when it got snagged on a second boat and flooded. Neither of the vessels' crew were on board at the time.
Lifeboat crews and fire fighters using pumping equipment raised the vessel to the surface on Tuesday.
The boat will now be towed to Northern Ireland for repairs.
A Port Erin lifeboat spokesman said: "It was team effort between lifeboat crew and firemen to bring her to the surface.
"We had to wait for the right tidal conditions as she was completely submerged.
"A boat from the same port was in Port St Mary and is going to pull her back home for a refit."
Port Erin lifeboat crew were called by the coastguard at 08:00 BST on Monday and helped to save some of the boat's electrical equipment.