Fishing boat sinks in port at the Isle of Man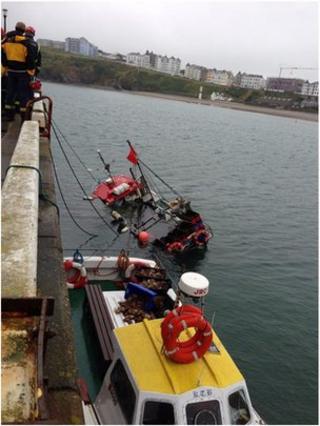 A fishing boat from Northern Ireland has sunk while moored at Port Erin harbour in the Isle of Man.
The boat sank overnight after it got snagged on a second boat and flooded. Neither of the sunken boat's crew were on board at the time.
Port Erin lifeboat crew were called by the coastguard at 08:00 BST and helped to save some electrical equipment.
A lifeboat spokesman said there were fears it could drag the second boat down with it.
John Moore said: "It is on the bottom now and we will try and pump it out at the first opportunity.
"We did what we could to help the crew to salvage what they could. They were very worried it would take the other [vessel] with it."
"It will be quite a big job to pump out as it is completely submerged."