Isle of Man stamps mark birth of royal baby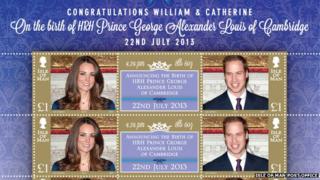 A set of stamps congratulating the Duke and Duchess of Cambridge on the birth of their son has been released by the Isle of Man post office.
A spokesman said the set of eight stamps was thought to be the first in the British Isles to mark the occasion.
The royal baby, born on 22 July, was named George Alexander Louis and is third in the line to the throne.
Isle of Man Post Office said it would be sending a cover of the stamps as a gift for the Prince of Cambridge.