Fishermen rescued from stricken vessel off Manx coast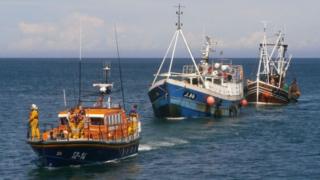 Five fishermen have been rescued after their fishing vessel broke down eight miles off the Isle of Man coast.
Ramsey's lifeboat crew was called to the aid of the Jersey registered fishing vessel on Monday after it got into difficulty near the Point of Ayre.
The Mersey class RNLI lifeboat towed the vessel, which was unable to make any headway, to Ramsey Harbour.
An RNLI spokesman said the rescue took about four hours to complete and confirmed that no-one had been injured.