Blues musician named as Isle of Man ambassador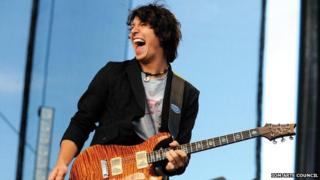 Blues musician Davy Knowles has been named as the third ambassador for the Isle of Man's year of culture 2014.
The 26-year-old from Port St Mary reached number two in the Billboard charts in 2009, with his debut album Coming up For Air.
He joins New York-based ballet dancer Lloyd Mayor and Jason Evans, principal Trumpet with the London Philharmonia.
The island's arts council said it was recruiting ambassadors "as part of a youth engagement programme for 2014".
Davy Knowles began his career in a local band called Back Door Slam.
He wrote and performed the anthem for the Isle of Man Commonwealth Youth Games in 2011 Reach Higher, also commissioned by the arts council.
'Wonderful' culture
"I am thrilled and honoured to be asked to be amongst fine company as a cultural ambassador for next year's Island Of Culture," he said.
"I'm looking forward to helping promote our wonderful culture and heritage and at the same time diving in and deepening my own knowledge and understanding of the music of the Isle of Man."
The Isle of Culture will run throughout 2014 and will focus on promoting creativity and the arts on the Isle of Man.