Island Games 2013: Winning Manx team arrives home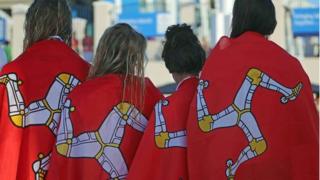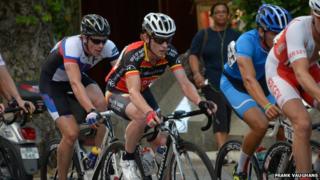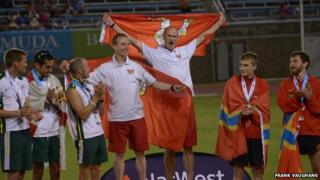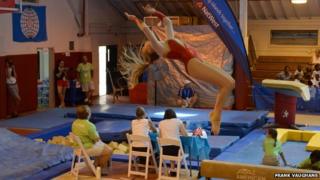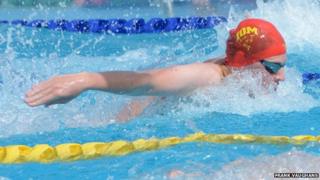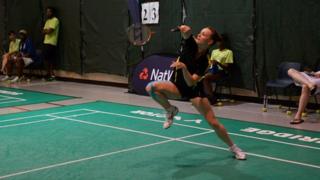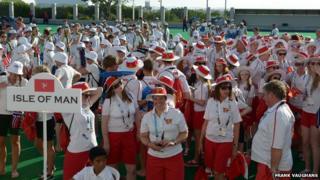 More than fifty of the Isle of Man's Island Games winning team have arrived home from Bermuda to a heroes' welcome.
The 84-strong Manx team won 97 medals (36 golds), in 11 sports to top the medal table for the first time since 1988 in the Faroe Islands.
Athletics team manager Anthony Brand said: "We exceeded all our expectations and it was great fun".
The first competitors and officials to arrive in the Isle of Man had been travelling for more than two days.
They travelled from Bermuda to New York, New York to London and then to the island.
In total the Manx team won 36 gold, 36 silver and 25 bronze medals. The hosts Bermuda finished second in the medal table with 27 golds followed by Jersey, who will host the next Games in 2015, with 23 gold medals.
Their medal total eclipsed the island's haul from 2011 when a 190-strong Manx team finished second to Guernsey in the medal table, with 26 gold, 22 silver and 20 bronze medals in the Isle of Wight.
Joseph Reid, 17, won 400m gold in his first Games.
He said: "It was a really good experience. I didn't know what to expect - I genuinely didn't think I would win. Looking back the race was a bit of a blur but I loved every minute of it".
Tennis player Laura Feely, 19, won gold, silver and bronze medals.
She said: "It was a great experience and the heat was incredible. I didn't expect to get win three medals and I am very happy and proud of them".
Chief minister Allan Bell said the team's success will "inspire the next generation of Manx sports stars".
He said their success would "give the next generation something to aspire to and hopefully emulate and overtake at future Island Games".
However, the Isle of Man's record tally of 41 golds came when they hosted the Games in 2001.
More than 2,000 competitors from 22 islands around the world competed in 16 sports over six days.
The Bermuda Games were the first Island Games to be held outside Europe.