Isle of Man wins the Island Games 2013 in Bermuda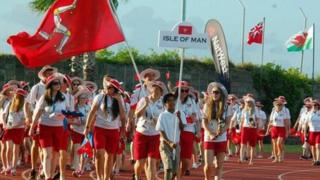 Team Isle of Man has won the Island Games 2013 in Bermuda after lifting four gold medals on the final day.
The Manx team lifted a total of 97 medals, including 36 golds, at the Games.
The last time Isle of Man finished at the top of the medal table was in 1988 which was staged in the Faroe Islands.
Host island Bermuda finished runners-up to the Manx squad with 27 gold medals and a total of 76 medals. Jersey were third with 23 golds and 80 in total.
Kevin Loundes lifted gold in the half marathon event and Isle of Man won both the half marathon men and women's team event on the final day of the 15th Island Games.
Cristen Callow and Kim Clague also won gold in the women's doubles in badminton on Friday.
The Manx gymnastics team again dominated the Games, notching up 10 gold medals.
Antony Duchars led the way with three golds, including on the high and parallel bars.
Grace Harrison won gold on the vault and the women's overall title as well as four silver and two bronze medals.
Fresh from winning his first match at Wimbledon, Billy Harris won the mixed doubles tennis event alongside Laura Feely with the Isle of Man also claiming silver.
Joseph Reid won gold in the 400m.
In the swimming pool, Grant Halsall won the men's 100m backstroke and Charlotte Atkinson won the women's 50m backstroke.
Halsall won four gold medals in Bermuda.
With a squad of 84, Isle of Man sent only half the number of competitors to Bermuda compared to the 2011 Island Games in the Isle of Wight but managed to pick up 19 more medals.
However, the record tally of 41 golds in the 2011 Games remained intact.
More than 2,000 competitors from more than 24 islands around the world competed in 16 sports over six days.
The Isle of Man team participated in 11 sports including cycling, tennis and athletics.