Fruit lollies help meercats cool down in summer heat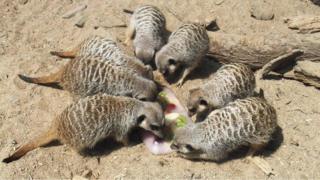 Meercats at an Isle of Man wildlife park are being treated to fruity ice lollies to help them cool down in the soaring temperatures.
Park keepers said despite their African origins, the desert-dwelling animals have recently been feeling the heat.
The lollies are made with various fruits including kiwis and apples.
Park manager Kathleen Graham, from Curraghs Wildlife Park, said: "When these animals start hiding away in the shade, you know it's hot."
She added: "We have discovered that the lollies have a dual purpose - when the meercats have eaten their fill, they lie on the ice."
Other measures being taken to help the animals cool down at the park include a sprinkler system for the penguins and other tailor-made iced treats.
"We are also making lollies for the Macaque monkeys and the lemurs - and it has gone down a treat," Ms Graham said.