Teenager sets Isle of Man kayaking record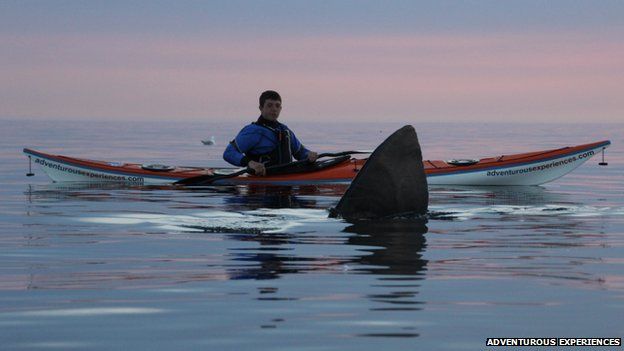 A Manx teenager has smashed the record for circumnavigating the Isle of Man in a standard touring sea kayak.
Kim Tastagh, 18, took 13 hours 7 minutes to complete the 72 mile (115km) route around the island's coast.
His time was 26 minutes inside George Shaw's previous record of 13 hours 33 minutes, set in March 2012.
On completing his journey he also became the youngest person to complete a solo non-stop circumnavigation of the Isle of Man.
The young adventurer set off from Peel beach at 04:20 BST and and returned at 17:27 BST.
On his journey he witnessed a variety of marine wildlife including seals, puffins and bottlenose dolphins.
In the last fortnight he has also kayaked alongside basking sharks and Risso's dolphins.
He said: "It is amazing what you see out there. The Isle of Man has incredible visitors and it is a great way to see them."
"It was the longest 13 hours and 7 minutes of my life but a new record is fantastic. I just hope George (Shaw) gives it a week before beating the new time.
"Conditions were excellent, if not a little hot," he added.
The outright fastest kayak record was set by John Willacy in July 2010.
Using a fast touring boat, a Rockpool Taran, he circumnavigated the island in a time of 12 hours and 36 minutes.
The route follows the Manx coastline in and out of the bays.