Rare whale sightings due to 'Isle of Man herring numbers'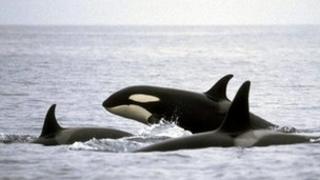 A high volume of herring in Manx waters is thought to have attracted rare whales to the Manx coastline.
The Manx Whale and Dolphin watch said there were unconfirmed reports of three killer whales off the south coast and a fin whale during June.
There were also 12 sightings of minke whales and two of a humpback whale.
"We have heard from fisherman about the amount of herring which may help explain the unusual sightings this month," a spokesman said.
"Not only do we hardly ever hear of these species being seen in Manx waters but they have all been seen within two weeks of one another."
Other species spotted near the Isle of Man this summer include Risso's dolphins, bottlenose dolphins, harbour porpoise and short-beaked common dolphin.