Isle of Man minister backs health probe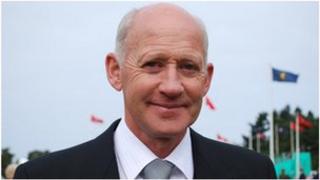 The Isle of Man's health minister has backed a probe into claims he misled Tynwald over a hospital review.
David Anderson denies the claim and said if he is found to have "knowingly" misled parliament, he will step down.
Mr Anderson was criticised of a "cover up" by the Liberal Vannin party after being unable to commission a UK watchdog to conduct a hospital audit.
He claimed the Care Quality Commission (CQC) had told him it could not operate outside of the United Kingdom.
The CQC has since said that although its primary function is the registration and regulation of health services in England, it can operate in both the Channel Islands and the Isle of Man.
In Tynwald on Tuesday, Mr Anderson said: "The fact that I and others were therefore not correctly advised of the situation concerning the CQC and the Isle of Man is, to say the least, most unfortunate and I apologise unreservedly for that error.
"It was always understood by me and the department that the mandate of the CQC precluded it from assisting the department further."
Standard concern
In the June sitting of Tynwald, David Anderson confirmed plans were in place for an external assessment, the timings of which are due to be announced shortly.
It follows the publication of a series of concerns from senior consultants about standards at Noble's hospital.
Kate Beecroft from the Liberal Vannin party, said: "The issue is not about whether the Care Quality Commission is the right organisation to conduct our review.
"It is about whether our Health Minister, David Anderson, told the truth in the House of Keys and Tynwald."