Tynwald Day painting unveiled by artist Svetlana Cameron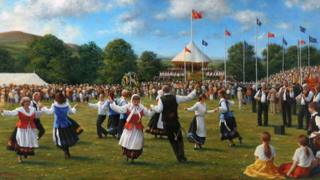 A painting inspired by the "joy" of Tynwald Day has been unveiled by an artist in the Isle of Man ahead of the island's national ceremony on 5 July.
Svetlana Cameron's painting depicts Manx traditional dancers at the event because she said "they represent the culture and identity of the island".
The Russian-born artist said she was inspired after attending the ceremony last year.
The work Laa Tinvaal is on show in Tynwald Library until 19 July.
Ms Cameron added: "The joy I felt during the day was unforgettable - this is my expression of a nation coming together to celebrate its unique identity."
Manx culture
The painting of Tynwald represents the artist's first step into a different phase in her work.
"I am planning to do a series of paintings on the theme of Tynwald Day but the first had to be of the Manx dancers - for me they represent the culture and identity of the island.
"That was the ambition with this painting - I only hope I have managed to express it on canvas."
Mrs Cameron, who began her career as an interpreter and translator in Moscow, has been painting for 10 years with a strong reputation in the world of portraiture.
In 2011 she exhibited alongside some of Britain's leading artists at the Pastel Society UK's annual exhibition at the Mall Galleries in London.
Earlier this year her portrait, Iona and Cocoa, was selected by the Royal Society of Portrait Painters to compete for the RBSA Portrait Prize 2013 award.