Isle of Man hospice founder awarded Tynwald honour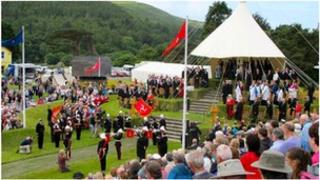 The founder of the Isle of Man's hospice has been awarded Tynwald's highest honour for "outstanding and sacrificial service to Manx life".
Nadene Crowther MBE from Castletown received a silver medal during Friday's Tynwald Day ceremony.
A Tynwald spokesman said it was "in recognition of her significant contribution to the hospice movement.
Recipients are entitled to use the abbreviation "TH" after his or her name.
One of the criteria for the award is that recipients must be motivated by promoting the quality of Manx life.
Previous recipients of the award include artist Norman Sayle (2007), journalist and farmer Harvey Briggs (2008), Ian Qualtrough (2009), Dr Brian Stowell (2010), William Cain CBE (2011) and former deemster John William Corrin CBE (2012).