Satellite tags uncover basking shark behaviour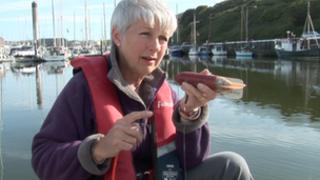 Satellite tags have been used by Isle of Man scientists to reveal more about the lives of basking sharks.
It is thought the data, which is now available online, will prove valuable in international conservation efforts.
Basking sharks are already protected in the North East Atlantic but scientists said they are still "vulnerable".
"We are discovering new things every day with this technology," Jackie Hall from the Manx Basking Shark Watch (MBSW) said.
"We are finding out where the sharks can be found and, because the tags stay on for approximately a year, we are hoping to get more of an idea about where they go during the winter.
"This kind of information is essential if we are to protect the animals. One of the problems is that we are still seeing some horrifically damaged fins which is caused, unintentionally, by boat propellers.
"It is all about raising awareness, we know that there is still a by-catch issue - this means the sharks are accidentally getting caught up in fishing nets. People can't be prosecuted for this if it is a mistake, but we really need to know when it happens.
Online tracking
"The information could help us gather information to help further protect these magnificent and endangered creatures."
Since 2007 MBSW, A Manx Wildlife Trust project, has employed in the region of 20 tags.
The tags cost about £3,500 each and allow the world's second largest fish to be tracked online in real time.
"These are new generation tags, so every time the shark breaks the water the tag sends a message to a satellite which in turn tells us where the shark is," continued Mrs Hall.
"For us as scientists the information is invaluable to inform our conservation efforts but it also means members of the public can follow these fish wherever they go. Anything we can do to enthuse people about the sharks is a good thing."
Jackie and Graham Hall are given a special licence from the Isle of Man government to approach the sharks, as part of the MBSW research programme.