Isle of Man Parish Walk's oldest competitor a blind man, 86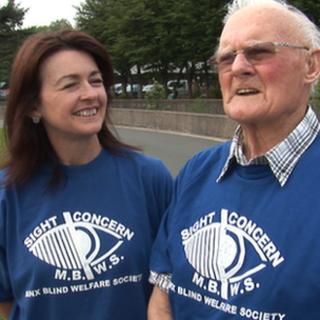 Around 1,500 walkers are taking on one the most gruelling sporting challenges in the Isle of Man calendar - but few will finish.
Those hardy souls taking part will attempt to walk some 85 miles (137km) around the Isle of Man, within 24 hours.
Amongst them will be three generations of the same family including this year's oldest competitor and debutant, Bob Corkish.
The 86-year-old, who is registered blind, said when his daughter, a seven time finisher, asked him to give it a go he thought "Why not?".
He said: "I am really looking forward to the day and hopefully the weather will be kind."
Mr Corkish only retired from a life-long career in farming last year.
The event, in which participants visit all 17 of the island's parishes, was first held in 1923 although other versions of the walk date back to the 1840s.
'Young at heart'
"I feel proud to be able to tackle the challenge at my age," said Mr Corkish.
"I've have been training for weeks now over five and ten mile routes".
His daughter Angie, describes her father as "young at heart."
She said: "I am very proud of him for taking on the challenge. He trains in the day and I train after work.
"We are going to stick together on Saturday and see how far we get.
"Dad only retired last year at the age of 85 after getting up at five in the morning to milk cows for 60 years. He was walking for the paper each morning to stay fit and each day went a little further.
"I said to him one day you're doing the miles we should enter the Parish Walk. We will go as far as we can and enjoy the atmosphere."
The father and son will also be joined in the race by Angie's son Matthew who as an under 21 competitor will attempt to walk to Peel.
Mr Corkish added: "I am very proud to have three generations in the race. If I do well I will be back next year for another go."
All three will be raising money for Manx Blind Welfare.