Riders attempt 85-mile centenary tribute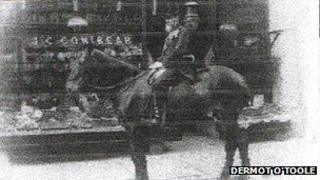 A team of 25 horse riders are attempting the 85-mile Isle of Man Parish Walk course as part of the event's centenary celebrations.
The challenge is a tribute to the achievements of the Douglas chemist, John Young, who rode the entire course 100 years ago, aged 62.
The British Horse Society's Walter Gilbey described it as a "considerable feat of horsemanship".
The team are hoping to complete the challenge in 14 hours.
The riders will visit each of the Isle of Man's 17 parishes - a week ahead of the centenary celebrations.
'Nervous thoroughbred''
According to author Dermot O'Toole, Mr Young overcame several issues, including bad weather, to complete the race in 23 hours.
He said: "The journey over the Sloc was particularly difficult. It was a misty, dark night and poor eyesight made the thoroughbred extremely nervous."
A vehicle with flashing lights will be used for safety.
Mr Gibney, the chairman of the Isle of Man branch of the British Horse Society, added: "'We are hoping that it will attract a lot of publicity and we believe this is a good opportunity to promote positive road safety issues for horse riders and motorists.
Referring to Mr Young's attempt, he said: "It was a remarkable feat of endurance from a remarkable man."
Mr Young's great grandson Graham went on to become a double parish walk winner in the 1970s and his great great great granddaughter, Anne, is taking part in Sunday's challenge.
Although the event was first held in 1913 the outbreak of World War I prevented it from being held again until 1923.
It has grown over the years and this year around 1,500 walkers will take part.