Isle of Man TT: Joey Dunlop stamps sell out in 72 hours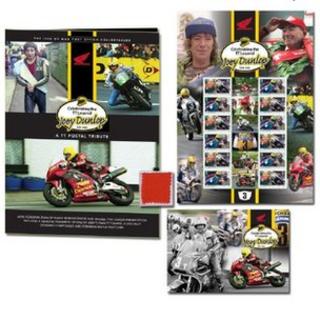 A stamp issue to mark the 30th anniversary of Joey Dunlop's first Isle of Man TT win for Honda has sold out within 72 hours.
Each of the 300 folders included a piece of a Honda T-shirt worn by the 26-times TT winner.
A spokeswoman said the interest had been "extraordinary".
The 48-year-old died in a racing accident in Estonia in July 2000, weeks after completing a hat-trick of wins on the Isle of Man.
General manager Maxine Cannon said the demand was so high, many fans of the Ballymoney racing legend were left disappointed.
The racer from Northern Ireland won the TT Formula 1 Race six years in a row between 1983 and 1988 and was TT Formula 1 World Champion five times.
Isle of Man Stamps and Coins have now responded with a new collection celebrating his remarkable career.
Mrs Cannon said: "Hopefully this will go some way to making up for the disappointment of Joey fans who missed out on the limited edition folder."
The first run was limited due to the size of the garment, a red sleeveless T-shirt, which had been worn by Dunlop in the race.
Stamps have also been issued to celebrate Joey's nephew Michael Dunlop's four TT wins at the 2013 meeting and John McGuinness's new lap record .