Isle of Man gay couple rental ban 'distressing'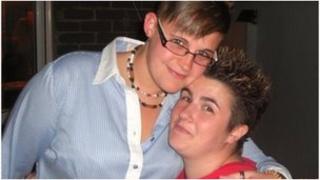 Discrimination against a gay couple in the Isle of Man has helped to highlight a gap in Manx law, says the island's chief minister.
Kira Izzard and Laura Cull were refused a rental tenancy in May on the basis of their sexual orientation.
The pair, from Douglas said they were shocked to discover there was no legislation to protect their rights.
In the House of Keys Allan Bell said the recent events have highlighted current gaps in Manx legislation.
He added: "This is obviously very distressing for people who find that they have no remedy under the island's law when faced with discrimination.
"It also leaves the island vulnerable to adverse publicity and reputational damage when cases of discrimination come to light.
'Shocked and sickened'
"I have therefore met officers from the Attorney General's chambers and asked that the Equality Bill now be treated as a high priority."
After being refused a tenancy on a home in Ramsey, Ms Izzard and Ms Cull launched an online campaign calling for a change in the law.
Ms Cull said she was "shocked and sickened" to discover that the landlord was acting within the law.
"I didn't know where to go or what to do as I didn't have a legal leg to stand on so after speaking with my partner Kira we thought that the only thing we could do was to share our story with as many people as possible and try and raise awareness that on this beautiful island that we call home we can still be treated this way," she added.
The petition has gathered the support of almost 1,500 people.