Open road accidents drop by 15% during TT fortnight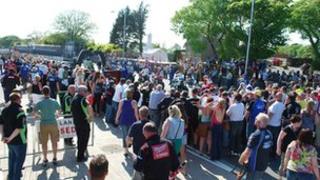 Despite 77 collisions during the 2013 TT fortnight, no-one was killed on the Isle of Man's open roads for the first time since 2006.
According to a police they attended 77 accidents compared to 91 the previous year, a drop of 15%.
Insp Derek Flint said the absence of fatalities on open roads is "remarkable and very pleasing."
Last year five people died in accidents on the Isle of Man's roads during the TT fortnight.
'Life-changing injuries'
During the festival more than 35,000 tourists visited the island with the Isle of Man Steam Packet company carrying more than 11,000 motorcycles.
A number of safety measures are introduced for the two-week event including the conversion of the Mountain Road to a one-way system.
Mr Flint said this year's event felt "more relaxed" than previous years.
"The real headline is we have had a year with no fatalities on the open roads which is remarkable and hasn't happened for seven years. I am very pleased about that".
Mr Flint also said that the number of people court speeding had dropped by 40% from the 2012 figures.
"There were however several people left with life-changing injuries", he added.
"They are a reminder that we can't be complacent and a full review will be carried out in due course. The vast majority of road users throughout this busy time were extremely well behaved."